In the past a change management strategy would mention sponsors, agents, targets and advocates. I'm not saying we should abandon that approach, but we can no longer neglect the importance of community development. 
Now that I have been talking about community being an essential element in the social architecture equation, it's time to dive deeper into community development. But first a little explanation on why I think it's important to dive into the dynamics of community development.
Two years ago I wrote about the shift that is happening in our society and how it affects our organizations. I wrote that successful organizations are those who are aware of that shift and tap into the new literacy of collaboration that social media has brought us. The result is a new balance between hierarchy and community that is called social architecture.
People need a platform that helps them to connect and share around certain topics. What's more: building of communities is the only guarantee to sustain an organizational change in the long run. Simply put: community is the thing that teaches people how to fish so they can eat forever.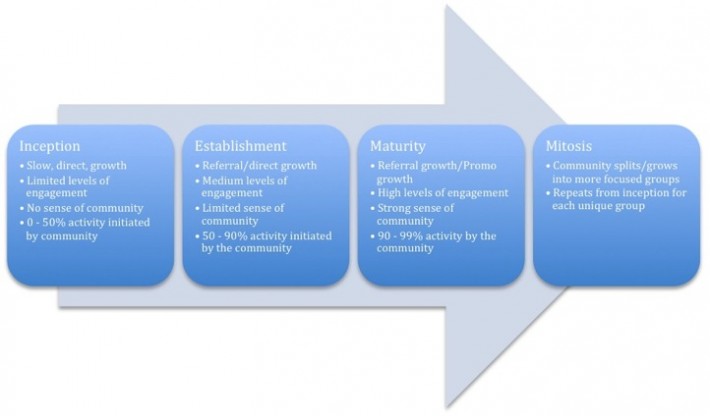 In my search for models, theories and examples of community development there is one particular model that stands out. It's called the Community life-cycle and it describes the process (digital) communities go through when they launch. I borrowed it from Richard Millington, who is an expert on the management of digital communities.  Here is the Amazon link to Richard's book: Buzzing Communities: How To Build Bigger, Better, And More Active Communities
In his model there are 4 different stages of the community life-cycle and it's important to know where your community is on that map. Knowing exactly where your community is on this model will make it easier to understand certain dynamics. Next to that, the model is very helpful in guiding how your time and attention should be spent according to the specific stage of the life-cycle. It may take some time to get your arms around this model, but once you do it turns out to be very practical, because it guides your attention and energy spent on all different aspect of community development.
One example: in his book Millington divides the job of community development into the following work-packages: Strategy, Growth, Moderation, Content creation, Relationships, organizing Events/Activities, Business Integration and User Experience. Each of these aspects need our attention, but they contain different activities depending on the life-cycle stage we are in.
Extremely helpful. Without any doubt I will be blogging about this cycle in more depth in the future.