I have made it to the finals–AGAIN! In addition to being named finalist in the HCI M-Prize, I have been chosen as a finalist for the Beyond Bureaucracy Challenge for my manifesto on Social Architecture.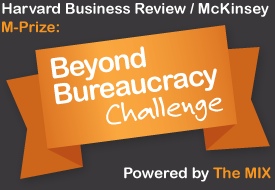 The judges and the MIX editorial team poured over more than 104 contributions from innovators from around the world and from every kind of organization—looking for depth, boldness, originality, thoroughness, and the ability to inspire and instruct in equal measure.
Winners of the Beyond Bureaucracy Challenge will be featured prominently on the MIX, on Harvard Business Review online, in the McKinsey Quarterly's channels. Winners will also be invited and featured at the first-ever MIX LIVE event in May-June 2012 and get the chance to mix it up with some of the world's most progressive leaders and disruptive innovators.