The Berlin Change Days is one of those very rare events where organizational change practitioners can meet in person.
'Change-maker', 'facilitator', 'practitioner' or 'catalyst' is how most of us refer to our profession. But regardless the label, it's always a challenge to explain what we do for a living – or even to justify why we have chosen a profession with a failure rate of 70%. When you are networking on such a conference, it's a relief not having to justify career choices at the beginning of a conversation. Furthermore, conferences are a great opportunity to catch up with the latest thinking and trends. An international mix of speakers on a variety of compelling topics makes it hard to choose among parallel workshops.
Un-conference
However, there is more to a conference than great speakers and intriguing topics. And this – it must be said – is what sets the Berlin Change Days apart. To begin with, the setting of the Kastanienallee in Prenzlauer Berg is one of the coziest neighborhoods of Berlin, emanating a bohemian charm. Imagine a modest school building in this area, an international crowd, and an experienced team to host the participants and you have the ingredients for a great experience.
Upon arriving at the Berlin Change Days, the absence of shiny branding and fancy design may be a culture shock for regular conference visitors. Instead, everything seems to be scribbled, pinned and dotted. Participants are invited to organize the human chaos by dotting their preferences for the parallel workshops, making their own name-tags, and connecting with other participants.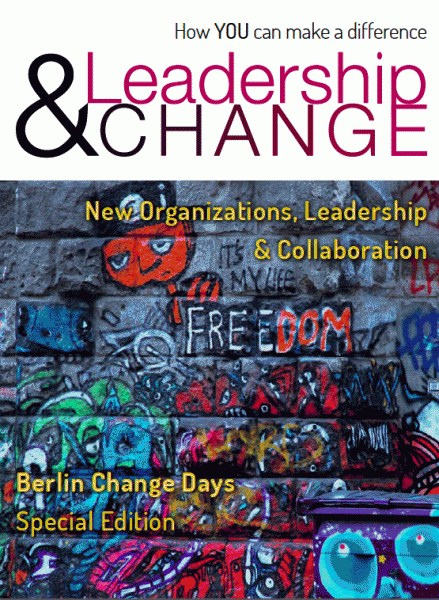 2014: Raising the bar!
And that's not all… For the 2014 conference the Berlin Change Days are raising the bar for any conference in the field. First of all there is a complete special issue of the Leadership & Change magazine devoted to the Berlin Change days. This special issue contains 12 articles with thought leaders and workshop presenters. Leadership & Change Magazine is a digital magazine about Positive Leadership, Change & Culture – created by leaders, consultants and professionals.
Secondly, right after the conference Daryl Conner will be facilitating a two-day advanced program called 'Raising Your Game'. It is designed for seasoned change practitioners who are committed to increasing the level of their effectiveness through focusing on who they are, not just what they do. It provides guidance, experiences, and resources for those interested in learning how their character and presence impacts their work.
Practicalities
Berlin Change Days – 31OCT-02NOV
Raising Your Game workshop – 03NOV-04NOV
GLS Language School Berlin, Kastanienallee 82, 10435 Berlin (Prenzlauer Berg)
Links
This promises to be a great conference and post-conference workshop. I will be there and I hope to see some of you as well.