A few weeks ago at work Danny pointed out that after more than two years of posting articles on this blog I have never mentioned Chris Argyris. Well … what can I say? Shame on me!
Chris Argyris is one of the founding fathers of organizational psychology. His main focus is on learning and most of all: the pitfalls that inhibit learning. Here's my top 3 of reasons why I should have quoted Argyris earlier.
One: Organizational Darwinism
There is a difference between "doing things the right way" and making sure that you are "doing the right things". It's a different kind of thinking. Argyris refers to this as 'single loop' versus 'double loop'.
Single-loop learning is like a thermostat that learns when it is too hot or too cold and turns the heat on or off. The thermostat can perform this task because it can receive information (the temperature of the room) and take corrective action.
Double-loop learning occurs when an error is detected and corrected in ways that involve the modification of an organization's underlying norms, policies and objectives. Double loop learning uses feedback from past actions to question assumptions underlying current views.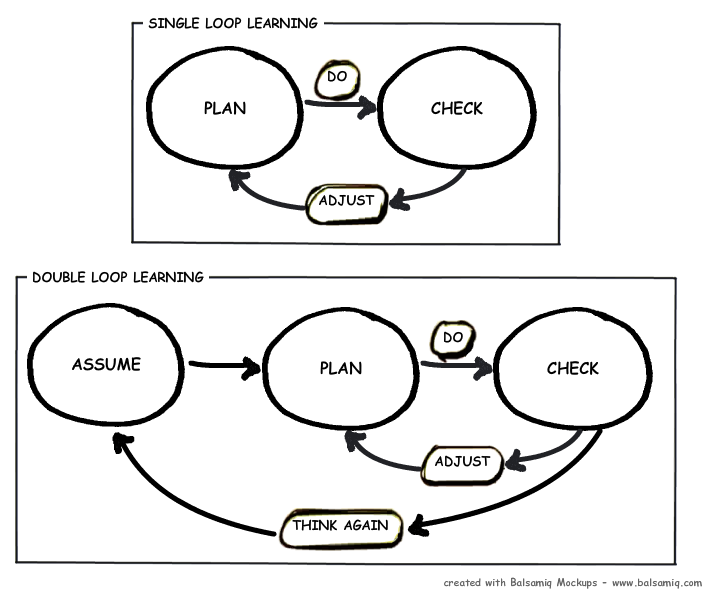 Relevance to organizational change practitioners on a scale from 1 to 10:"10″!! In fact, double loop learning is exactly what you do when you work yourself or your organization through a change.
Two: We are All Liars
Another famous theory of Argyris is the theory-in-action concept. There is a clear gap between what individuals say they want to do (espoused theory) and what they actually do (theory-in-use). People always behave consistently with their mental models (theory-in-use) even though they often do not act in accordance with what they say (espoused theory).
Relevance to organizational change practitioner on a scale from 1 to 10:"10″!! Without any doubt in times of transition and change people are constantly eaten by dilemmas of how they should behave what they should believe.
It helps to be aware of this duality in order to understand the dynamics of what is happening below the surface. In order to effectively come to grips with new situations, the espoused theories need to be aligned with the theories in use.
Three: We see the World as We are (Not as it is)
Argyris was the first to introduce the ladder of inference (Peter Senge made extensive use of this concept in the The Fifth Discipline
). This is a model of how people process information and assign meaning. In other words: 'how we make sense'.
What the concept implies is that we begin with real data and experience. We then choose a set of selected data and experience that we pay attention to. To this selected data and experience we attach meaning, develop assumptions, come to conclusions, and finally develop beliefs. Beliefs then form the basis of our actions which create additional real data & experience.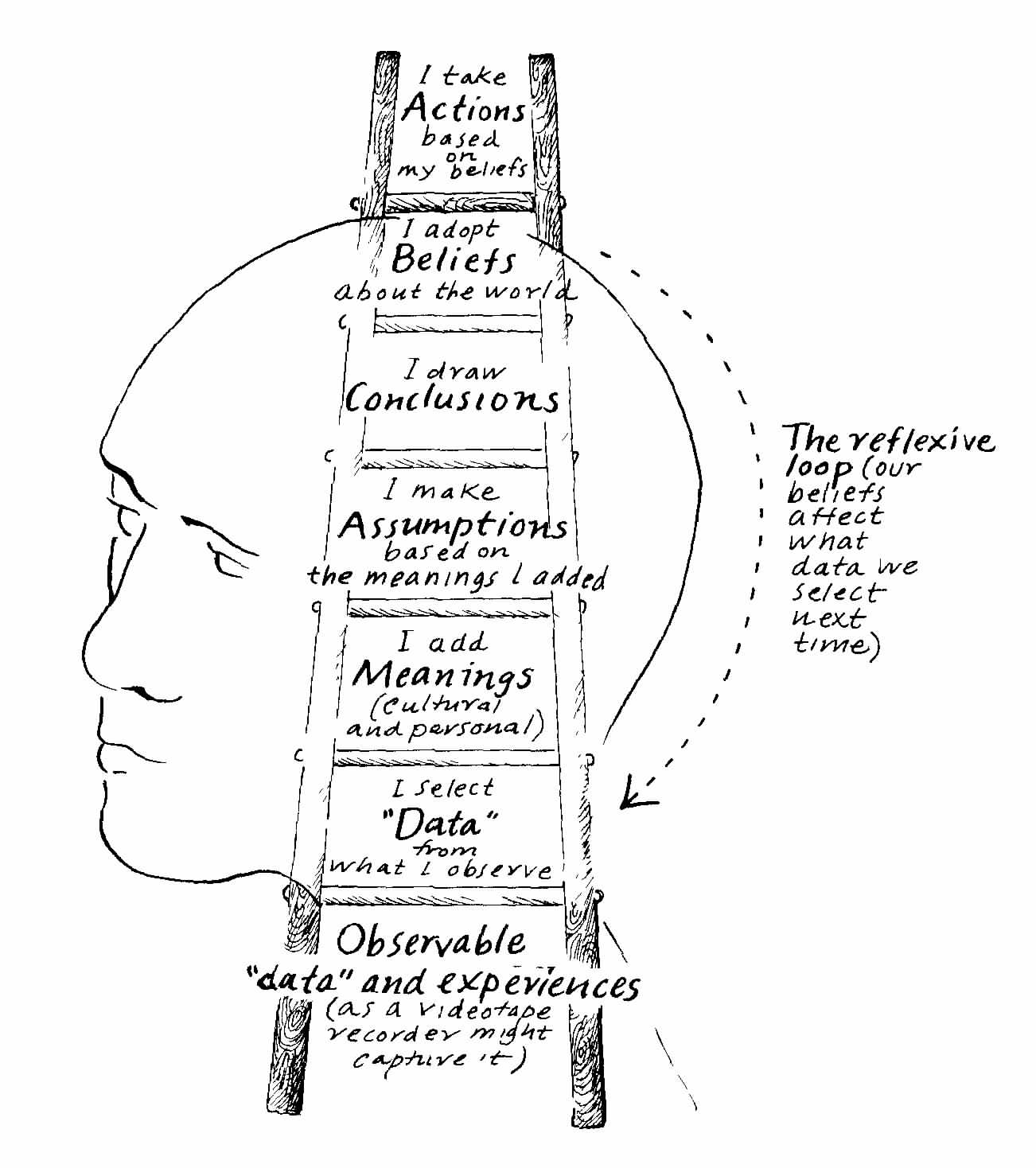 Relevance to organizational change practitioner on a scale from 1 to 10:"10″!! Pretty much all of the steps on this ladder are within your scope during an organizational change: altering the experience, influencing the attention, offering new ways of assigning meaning and new ways of making assumptions and changing these beliefs. That is: if you endeavor sustainable change! If not: never mind this ladder and enforce people on the level of action (so they become helpless and dependent).
Without any doubt Chris Argyris is of great importance in the field of organizational change management. Phew – I'm glad I fixed that hole!
____________________
Related articles:
– Making Culture is No Rocket Science – July 22nd, 2007