The Edelman 2013 Trust Barometer shows some remarkable facts on trust on a global scale. It turns out that we are in a leadership crisis and that Social Architecture is the remedy to that crisis.
When comparing trust in institutions to do what's right, and leaders to tell the truth, Edelman has found a significant gap. To begin with, CEO's have less than 50% trust around the world. Have a look at the video below for a quick summary of the findings.
A more detailed look at the dimension of trust in ethics and morality reveals that leaders in business and government have a severe issue with truth-telling, because less than 20% of us trust leaders to 'tell the truth, regardless of how complex or unpopular it is.'
An even more striking observation is the gap between the trust in organizations to do what's right and the trust in leaders to tell the truth (see graph below).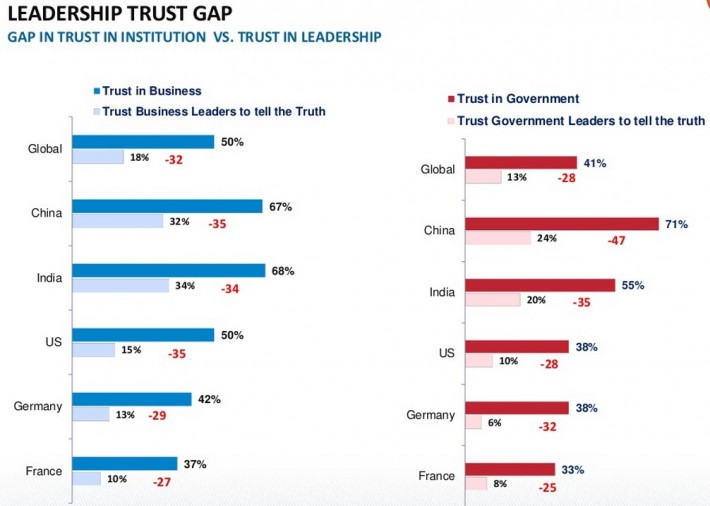 This leads the people of Edelman to conclude (and rightly so) that there is a crisis of leadership, which calls for a new model of influence. They call it the Diamond of Influence. The Diamond of Influence is a combination of the traditional pyramid of authority AND the new pyramid of community, thus combining 'top-down' communications with 'up-and-out' communications and peer-to-peer dialogue.
To this I say 'Bravo' for Edelman, because they are by far the first serious player in the management research arena to call for an inclusive model that states that we need BOTH, influence AND authority.
Note: Generally speaking, McKinsey is still talking about top-down initiatives leaders should be investing in, and Harvard is on the bandwagon of doing away with anything that has to do with 'authority'. All the others are dabbling between these states of analysis paralysis and immature analysis.
In combining control (authority based) and community (influence based) as the basic dimensions of their diamond of influence, Edelman is the first influential player in the market to agree that Social Architecture Equation is the solution to the leadership crisis. It turns out that the Diamond of Influence is exactly the same model – but with a different visualisation – as the lattice structure of Social Architecture.
I'll give myself a pat on the back for that insight and gracefully add that the Social Architecture Manifesto was first published on the 10th of January 2011. 🙂