This was just a thought that came to my mind while we were discussing the priority of a key user during the delivery phase of an ERP program: should it be classroom training attendance or acceptance testing?
One would say: for the sake of the quality of the system it should be attendance to the testing session; and for the sake of learning the key user should attend the training session. I say: NO WAY – testing is the main event for both quality assurance AND learning!
As I mentioned earlier, teaching is placebo in order for learning to occur. A Classroom training is at best a moment of truth in which the participants flip over the decision switch that says: "as of now I will be capable".  Learning occurs AS OF that pivotal moment – not 'during' and not 'before'.
On the other hand: in testing you want to find something out or get something done. As John Seely Brown notes: it is about doing stuff; and then getting stuck while you're trying to do something generates the passion to find out more about it. In testing you don't get to build up an inventory of knowledge and skills. Learning happens on the fly, but you have to be willing to be confused, you have to be willing to make errors.
And there is more news: the digital divide between generations that we once thought of as being isolated to a group of nutcase computer engineers, introvert and pale skinned; has now gotten mainstream. Young employees, average IQ'ed moms and pops and even early adopters of the grey-haired generation are now subscribing to this new world of learning.
The Web 2.0 has a side effect on learning and it's a big one: throw away those expensive manuals and get out of that classroom! John Seely Brown refers to it as Learning 2.0 – day by day classrooms are becoming obsolete and social spaces – most of them virtual spaces – are finally being recognized as learning environments. In the below drawing I have taken a slide of John Seely Brown and fitted in where I think 'Classroom Training' and 'Acceptance Testing' belong.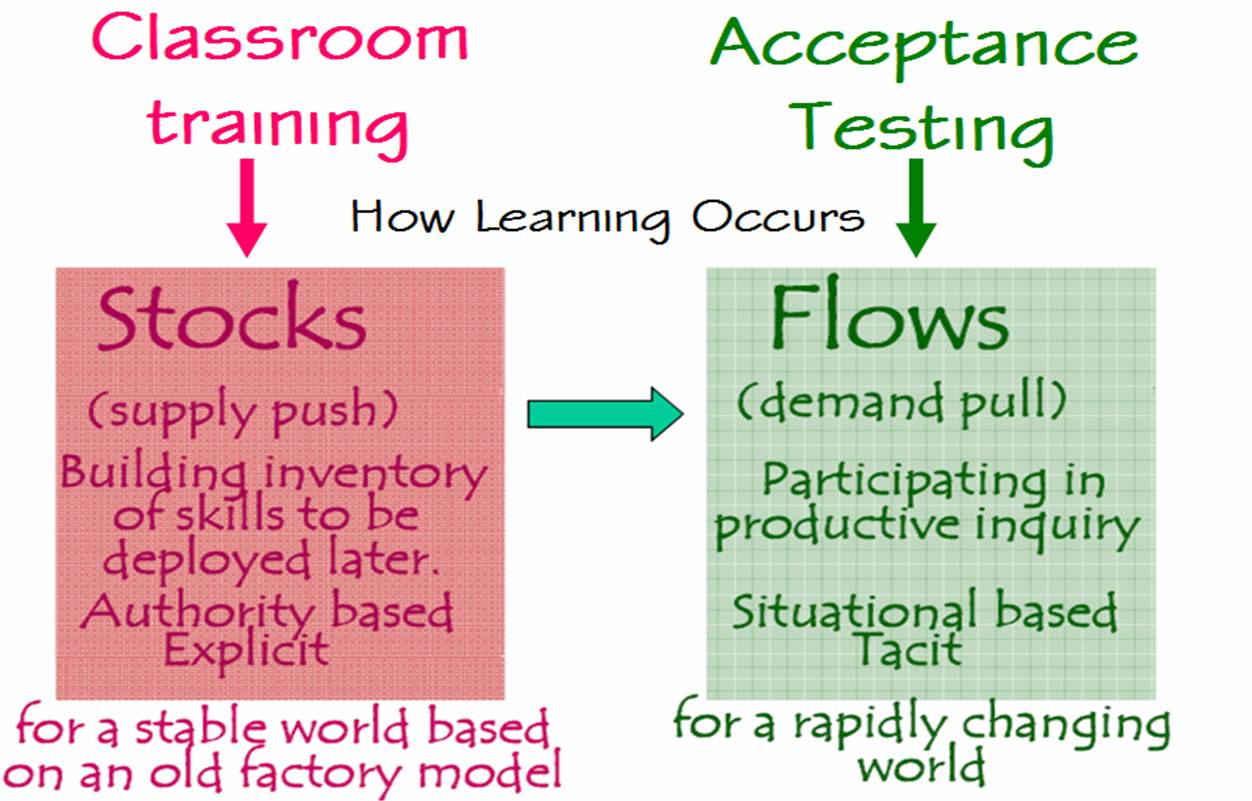 Each day it is getting clearer that learning is social and that knowledge is a social thing. It exists in action, participation with the world, participation with the problem and participation with other people, i.e., practices. A lot of the knowing comes into being through the practices of the people and the environment you're working in. When I say "the end of teaching", I mean: the end of a paradigm where we believe in knowledge as an inventory of stock – eventually gathering dust.